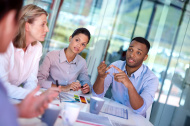 For an experienced employer the task of organising a company's payroll can be daunting. For a new employer it can be terrifying to the point of paralysis. But with wage bills typically accounting for 50-80% of an organisation's expenditure, its an essential part of any organisation to have in place effective operational system from day one.
Evarist Cliffe & Co. will take you through all the available options, explaining the benefits and drawbacks, of each to make your payroll services buying decision seamless.
Payroll: What are the options?
Broadly speaking there are three main options when it comes to payroll: managing it in-house, having an accountant manage it for you or outsourcing it to a specialist payroll services.
In-House Payroll
For a small business owner managing payroll in-house means
Getting to grips with tax and national insurance calculation for each employee, being aware of and keeping up to date with changes to employment law. Correctly filing returns to HM Revenue and Customs at the right times of year. Processing payment to employees, HMRC and pension schemes and providing employees with pay slips.
Quite an undertaking for someone who also has to oversee and manage the day to day running of the business
For larger businesses in-house payroll management means having one or more staff dedicated to the function, usually as a part of the finance department or HR department. Keeping it in-house means:
You retain management and responsibility for the correct administrations of the payroll
You retain access to data and reporting
Conflicts can arise (usually neither finance nor HR see payroll as naturally falling within their remit
Employing extra staff due to the extra work involved
Purchasing expensive payroll software and updating it annually.
Payroll through Evarist Cliffe & Co. This alleviates the need to perform complex calculations and stay on top of changes to tax and employment law.
Outsourced Payroll
Evarist Cliffe & Co. provides a variety of different service level to suit your needs whether your business is large or small, outsourcing your payroll functions can:
Lower costs
Improve efficiency
Free up staff for other tasks
Provide peace of mind- your payroll will always be compliant with legislation and regulations
Remove the need to purchase extra software and hardware
Outsourcing management of your payroll to Evarist Cliffe & Co. can take a variety of forms, allowing you to decide exactly how much responsibility and accountability you want to hand over. There are several levels of outsourced payroll services available so let's look at each in turn.
Managed Payroll Services
This is total outsourcing of your payroll. Evarist Cliffe & Co. will not only calculate and process all payment but ensure compliance, taking on the following responsibilities:
Processing starters and leavers
Calculating pay for salaries and variable wage employees including performance related bonuses
Processing BACS payments to HMRC, pension schemes and unions
Providing payroll software for reporting
Providing security sealed pay slips or e-pay slips
Providing year filing
Handling enquires from staff and tax authorities
With managed payroll you don't need to worry about changes to tax codes, providing your employees with the right forms or forgetting to file with HMRC- Evarist Cliffe & Co. will take care of it all. All you need to is supply the information
Key Benefit: A total solution. Almost no involvement with payroll processing required!